Dazzle Dry Spa Manicure
View Images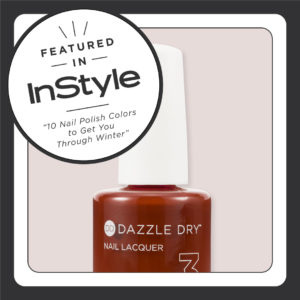 Price: $48.00
Availability: in stock
Prod. Code: Dazzle Dry Spa Manicure
After years of searching for the best possible nail product, Eva is proud to introduce Dazzle Dry.
This unique and proprietary four-step system is backed up by 30+ years of research and development and is considered a healthy gel alternative. It is Vegan, Cruelty-Free, Hypoallergenic, Non-toxic, Non-yellowing, Quick drying (air-dries in 5 min without the use of reactive chemicals), Fortifying, Long-wearing delivering a 7-14 day chip-free wear and removes with regular acetone/non-acetone nail polish remover. Does not contain reactive ingredients, monomers and photo initiators that may cause allergic reactions and skin sensitivities. The system is the cleanest of all solvent-based polishes/lacquers on the market today.
Dazzle Dry is the only system of its kind delivering the high performance of a gel polish without the use of harsh chemicals, UV light, or damage to the natural nail; all while protecting and strengthening the nail over time. DD represents the best of all worlds because of our unique technology. Dazzle Dry is in a category all by itself due to the chemical composition being completely different from any other polish/lacquer on the market today. Dazzle Dry is lacquer reinvented.