Pittsburgh Day Spa, Massage + Salon | 412-782-3888
Pittsburgh Face, Massage, Nail and Hair Experts
The Best Day Spa in Pittsburgh, Since 2002 - Schedule your Face, Nail, Body or Hair appointment online at www.esspa.in or give us a call. Everything we offer at our physical spa is also for sale here online for your convenience. Buy Spa Gift Cards or Skincare and Salon products online here today.

Welcome to esSpa Organic Hungarian Skincare + Salon! We believe that you, your Mom, Dad, Sisters, Brothers, Grandparents, Cousins, Kids, neighbors, coworkers, the lady in line ahead of you at Giant Iggle, the individual checking you out at the Iggle, etc. - everyone deserves the best possible experience for the best value. Value does not mean cheap. Value means getting a great quality product and/or service for a fair price. And that is exactly what we promise to deliver, to every guest - including you - during every visit. Guaranteed. We cannot wait to have you be our Guest!


Instantly Buy Holiday eGift Cards
Instantly Print The Perfect Gift - all of our packages and specials are also available as Online eGifts.
Click Here or on the Picture Below to Instantly get an eGift from any smart device today!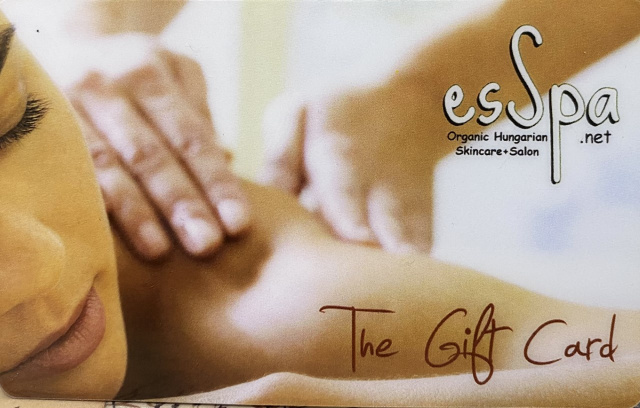 Click Here Now to Instantly Book an Appointment.