The CO2 - Bohrs Effect - Facial Treatments
Combine Science and Physics to deliver a fresh face
Facials have evolved over the years. We are no longer simply putting a store-bought mask on our face and calling it a day, we've upgraded our standards and now require a multi-step process to ensure our skin looks the best it possibly can — and that just became a lot easier thanks to the The CO2 - Bohrs Effect - Facial Treatments at ESSpa Organic Hungarian Skincare + Salon.
ESSpa is excited to introduce two unique versions of The Bohr Effect Facial – both of these treatments utilize CO2 (Carbon Dioxide) as the main ingredient.
The name describes hemoglobin's lower affinity for oxygen secondary to an increase in the partial pressure of carbon dioxide and/or decreased blood pH. This lower affinity, in turn enhances the absorption of oxygen into the tissues to meet the oxygen demand of the tissue. The result is skin tissue that is more active, energized, plump and youthful.
If you are seeking truly incredible results, we recommend our truly Medical Grade CO2 Pro Lift Facial. It takes time and we recommend adding this treatment to either our ProCell, WiQo Peel or Dermablading Facials for something you have never experienced - and will never experience at any other day spa or salon.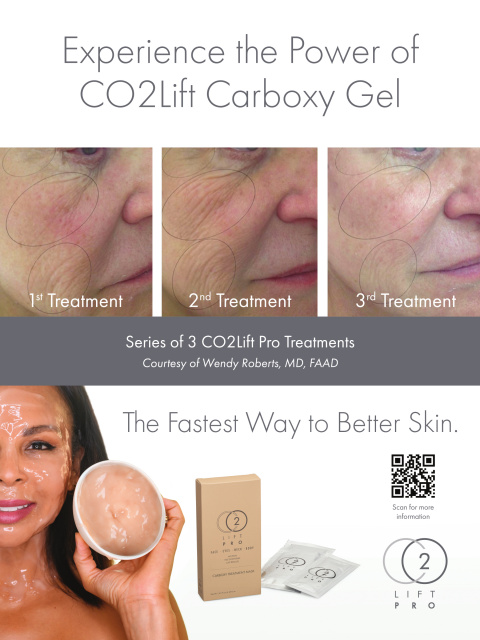 The CO2 Lift Pro is a medical grade topical carbon dioxide system with powerful benefits. It is best described as a topical hyperbaric chamber for your face. It lifts, tightens and regenerates the skin through bio stimulation, vasodilation, tissue oxygenation and neoangiogenesis. Application of the CO2 Lift Pro results in the widening of blood vessels leading to increased transportation of oxygen to body tissues that can help stimulate cellular regeneration and deliver significant anti-inflammatory and other healing effects. This means that you will NOT leave irritated, red or inflamed after any of our more aggressive Facial Rejuvenation Services.
Recent pilot studies prove that the CO2 Lift Pro increases hydration by 117 percent, increases elasticity by 26% at week 6 and 28% by week 10, increase luminosity by 39%, radiance by 42%, improvement of sagging skin by 38%, a 24% decrease in lines and a 20% decrease in wrinkles and fine lines.
This product is used as a standalone treatment, pre and post UltraSound, MicroChanneling, ProCell, Dermablading, Peels, and Photomodulation to enhance results, improve quality of skin and decrease downtime.
The Co2Oxy Facial is a 3-in-1 facial that exfoliates, infuses antioxidants via serums, and oxygenates the skin. Our non-invasive system offers different treatments that work below the skin combining Oxygen, CO2 exfoliation, ultrasound, and neo-massage technologies. If you're still unsure what all of that means, don't worry, Eva explains it better. When the OxyPod and Primer Gel interact, tiny microbubbles form and coat the skin in a lively layer of CO2 – it's this CO2-rich environment that triggers the red blood cells to release oxygen into the surrounding tissue, leading to better cellular function, better absorption of active ingredients, and overall healthy-looking radiant skin.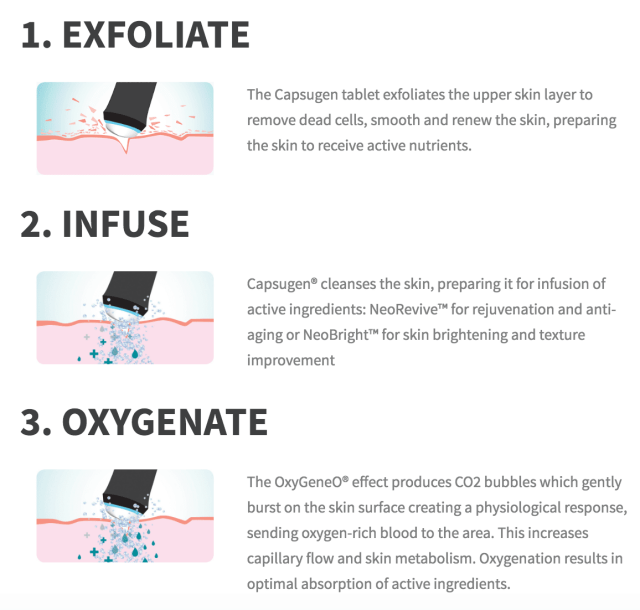 Why is This The Facial of The Future?
The Co2Oxy Facial is a super-facial suitable for all skin types and provides immediate and long-lasting results with no downtime. The utilization of native oxygen and CO2 sets this apart from other treatments that aim to oxygenate the skin through external means. The lack of suction and control over treatment intensity makes it a suitable treatment even for more sensitive skin types.
"The first step in the Co2Oxy Facial process is called Bohr Effect," she says. "This simply means we are triggering the body's natural, physiological response to increased oxygen levels internally and then carrying that oxygen to the surface of your skin. In doing so, we prep the skin for maximum absorption throughout the rest of the facial treatment."
Each of the treatments addresses skincare concerns from acne to mature skin. For example, the Balance facial treats oily and acne-prone skin while the Hydrate facial works to enhance the skin's moisture retention. For hyperpigmentation and textured skin, we recommend the Illuminate facial because it unifies the skin tone.
The science and technology of this facial are a win win win. It's a good example of the kind of treatment that's trending because it's a perfect combination of science, technology, and skincare with a calming self-care type vibe because it is so relaxing, feels great and leaves your skin glowing with youthful radiance and life.
How Soon Can Results Be Seen?
The Co2Oxy Facial yields an instantaneous glow and a super-smooth texture immediately after the treatment, as well as an improvement in the appearance of fine lines and wrinkles and increased hydration. More long-term results happen on a smaller scale, deeper in the skin, and are a result of enhanced cell function and nourishment.
NewbaSkin Co2Oxy Facial treatment at esSpa Organic Hungarian Skincare.
DISCLAIMER
*Results may vary. We are reputable for complete customer satisfaction for completed treatments. Before and after images reflect real results from real patients, although individual results may vary. No treatment is promised to provide permanent results. A guarantee is neither provided nor implied. Statements estimating treatment duration and the number of treatments required are based on the typical experience of our patients, however individual experiences may vary.